Longhair Man Look
Some of the most fashionable long-haired looks for men are the urban hipster and laid-back surfer styles. Nowadays, long masculine hairstyles are not just limited to creative and artistic types, they are also popular in business environments, with the "man-bun" being a frequent favourite. Depending on the individual, long hair can be styled very differently. However, all long hair styles have one thing in common: Without a professional haircut, they will quickly look untidy. Because of this, men with long hair require regular, professional haircuts from a hairdresser. Most men prefer simple, low-maintenance handling at home, which allows them to wear their hair in the style that they want.

Three questions posed to Marine Ulrich about the new MOSER Longhair Man Look:
1.What does it take to make the haircuts of men with long hair look good?
Texture is the magic word. A good long hair cut for a man requires a perfect texture; this helps the lads manage their style at home and provides the hair with a sleek look. The longer the hair, the more naturally it should flow. I also recommend providing sound advice on any products to be used at home following the visit to the hairdresser. In my opinion, three things are needed for a quality long-haired look for men: The perfect cut, intensive texture and top styling – and for me, the All-in-One blade and good hair straighteners play an essential role in creating these looks.
2.What technique do you use to add texture to the hair?
I love working with the MOSER All-in-One Blade. It allows me to create perfect, super-natural hair textures three times more quickly than normal. The texture blade set facilitates different cutting techniques for various hair types and I find that it really makes a positive change to the structure and texture of the hair.
3.When styling, you use hair straighteners and thereby even create waves within the hair. How do men react to this?
From my experience in our salon, men are generally curious and open to new things when it comes to their hair. They are very happy to experience new things, i.e. styling with hair straighteners, particularly when they see how much better their hair looks and how well the style flows.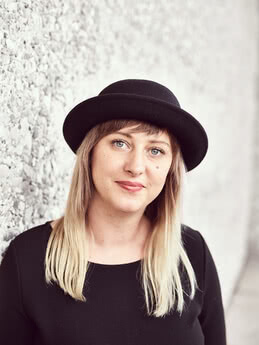 Marina Ulrich - A portrait
She turned her passion into a profession and is among the German hairdressing entrepreneurs whose dedication has seen her career take off. Since 2014, she has been running a unisex hairdressing salon with an integrated barbering section in Sachsen bei Ansbach. Not only that, but in December 2019, she and her team fulfilled a dream of owning a barbershop in the town of Gunzenhausen: the heart of the Franconian Lake District.

Tangible proof that she had mastered the world of barbering arrived at the 2017 Barber Awards in Nuremberg, where she was awarded the title of "Germany's Best Female Barber ". She has also made various TV and media appearances. However, Marina does not limit herself to just men's hair: "With hair, I am in my element. I like both and I do both. Styling women's hair allows me to work with an abundance of creativity and men's haircuts have always been a speciality of mine. I simply like working in the details with precision and integrating new techniques into my work", says Marina. Standing still is a foreign concept to her; both she and her team are constantly evolving. In addition to working as a specialist trainer at various seminars, the top hair trade fair show stages and hairdressing industry events, she also participates in diverse photo productions and is involved in education. Marina's sunshine personality is the origin of her motivational capabilities for which she is so well-known. The keys to her success are her determined spirit, her delightfully grounded personality and her unquenchable thirst for new experiences: "When I do something, I do it right. I have a great team, my family support me and I have become friends with many of my customers over the years. I don't take this for granted; I am thankful for it every day".