Premium magnetic attachment comb 1801-7030
Premium magnetic attachment comb 1.5 mm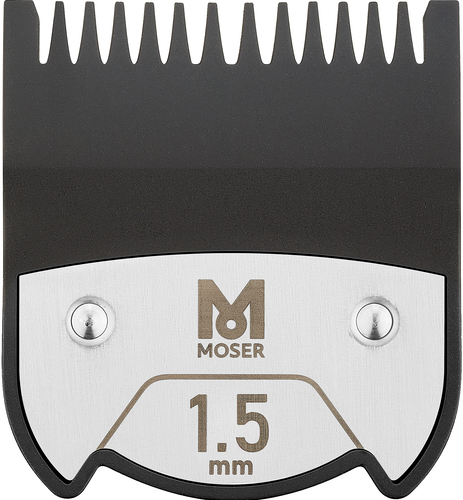 PERFECT FIT:
Secure grip thanks to MAGCLICK®-System, that provides the perfect fit on the blade set. A click verifies the latching.

SMOOTH:
Rounded comb edges for a comfort skin feeling and a smooth gliding through hair.

DURABLE:
Premium glass and mineral filled material assures optimum results and long lasting fitting accuracy. Resistant against chemical products used in salons.
INTUITIV:
Easy handling and clear visibility of size information through tall, high-contrast laser marking. The indicated length of attachment combs correlates with the cutting length of the closed blade set.

FLEXIBLE:
Fitting for all MOSER/WAHL and ERMILA cord/cordless clippers with type 1854, 1870, 1871, 1872, 1874, 1876, 1877, 1884, 1885, 1886, 1887, 1888, 4212.

ORGANIZED:
6 attachment comb sizes 1.5/3/4.5/6/9/12 mm in convenient storage box available. Variable to arrange.