NEW: Neo & NeoLiner Black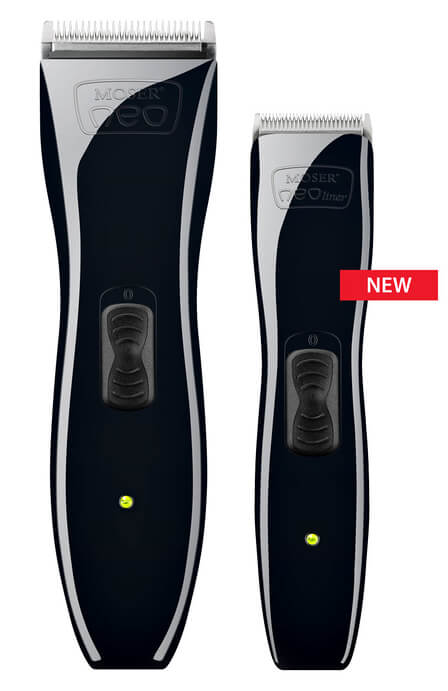 Just cutting – that's the basic premise behind the new, stylish Neo and Neoliner hair clippers from Moser. With its futuristic glossy black design, impressive technology and stylish brand profile, this new series of hair clippers is particularly aimed at the new generation of hairdressers, as well as creative minds.
Users will not only be impressed by the appliance's outstanding performance, but also its affordable price. Apprentices and journeymen with limited funds no longer have to make any compromises on quality, as the new Neo series combines all of the features you would expect from a professional hair clipper: excellent cutting performance, reliability, smart design and a long service life.

In addition to first-class quality, the professional appliances also impress with their amazing features: The Neo hair clipper is equipped with the professional Magic Blade stainless steel blade set, which always guarantees excellent cutting performances and provides ultra-precise haircuts. It boasts an integrated cutting length adjustment of 0.7 to 3 mm and is particularly soft on the skin thanks to a special manufacturing technology. It also scores points through its combined battery/mains operation with a battery operating time of up to 90 minutes, as well as its integrated LED charging indicator.
Thanks to its low weight and ergonomic, slim design, the appliance is especially light and comfortable to handle. The operating button on the front was specially designed to provide extra grip for even more intuitive work. The accompanying Neoliner contour trimmer impresses with its reliable running time of 100 minutes that does not impair the cutting performance. Like its "big brother" the Neo, the Neoliner also has combined battery/mains operation and an integrated LED charge indicator.

Weighing a mere 130 grams, the Neoliner is ultra-light and, thanks to its sleek and particularly ergonomic shape, it is the cream of the crop with regard to comfortable handling. Its small blade set allows contours to be flawlessly defined even in difficult-to-reach places such as around the ears, while beard hair can be trimmed within the blink of an eye.

A matching case, attachment combs, charging cable, cleaning brush and appliance maintenance oil are all included. Both professional appliances can be purchased separately. Young, creative minds can now really hit the ground running!