Geometric Couture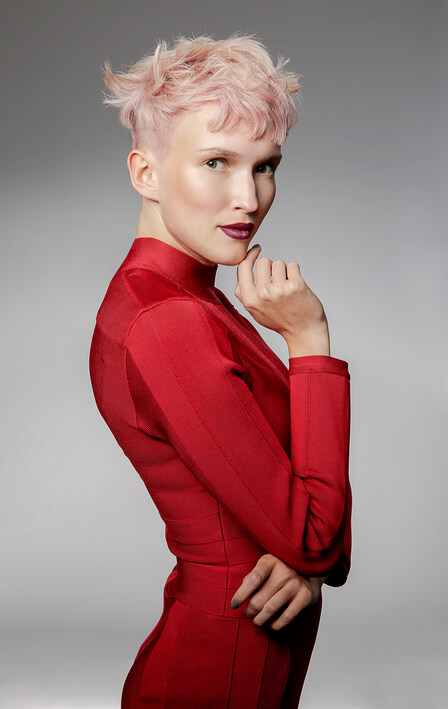 Geometric Couture
New Trend-Collection from Moser
Modern. Straightforward. Futuristic. Following the era of beach waves and nature looks, Wahl is now offering a distinct countertrend with the Moser Geometric Couture Collection. This style is characterised by geometric shapes and ultra-precise details. Who says that geometric has to mean boring? A gentle interplay of colour provides skilful changes in style and ensures that the styling does not lack feminine elegance. The perfection of the cut forms the basis for a straight finish which gives an attractive look. In cooperation with
Label.M
and its artistic director Marc Lonardoni, Wahl has created its own interpretation of the theme and subsequently developed a collection that perfectly showcases the new geometric trend. It includes a clearly graduated cutting line at the top of the head that provides striking accents. For styling and creativity, the sky is the limit – whether you want geometrical-minimalistic styles or elegant femininity.
In the creation of the new Geometric Couture line, three exclusive hairdressing tools were the focal point: The innovative
ChromStyle Pro
, hair clipper, the Moser ChroMini Pro contour trimmer and the Moser CeraStyle Pro hair straightener. The top-quality hair clippers are more powerful and precise than ever. Equipped with the Magic Blade professional blade set, the ChromStyle Pro provides perfect cutting performance, particularly when working over the comb. Thanks to the integrated cutting length adjustment (0.7 mm to 3 mm), precision cuts and softly defined transitions can be created with ease in all hair lengths. The
ChroMini Pro
, contour trimmer provides precise cutting lines and tidy detail work, and can be used at difficult angles with effortless ease thanks to its compact, ergonomic design. The secret to the geometric look's perfection lies in the use of the
CeraStyle Pro
hair straightener when working the cut. It features gentle ceramic technology. Its rounded-off, flexible plates heat up at super speed and the device is ready in no time at all to straighten the sections at the top of the head for the final cutting finish, thereby providing the basis for an ultra-precise graduation. Thanks to the excellent performance levels and first-class quality of Moser's tools, international elite stylists believe they should be included in any professional equipment.