Crimping hair:
Whether it's at fashion shows, on Instagram or in fashion magazines, crimped hairstyles keep showing up. Crimped hair was primarily a major fashion trend in the 80s. However, the times in which the entire hair was simply styled up into an afro are long gone. Nowadays, stylists use crimping irons to create volume or for unusual looks, such as crimped beach waves, braid styles or updos. Savas Güner of Salto Hairartist in Innsbruck is one of the leading updo experts in the German-speaking countries. He works as a coach, does salon training and conducts updo seminars. To him, a crimping iron can guarantee successful updos.

"Especially when it comes to updos, a crimping iron can provide hair with a perfect basis that allows even very fine or slack hair to be put up", said Savas Güner.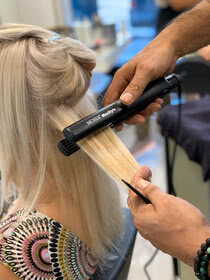 Greater hold and more volume with the MOSER MaxStyle
The MaxStyle ceramic crimping iron from MOSER makes even more styling hacks possible. Updo and styling experts consider this professional tool a must-have because of its ingenious features. With its innovative ceramics technology, the crimper provides especially gentle styling. In the process, it reduces the static charge, which lends the hair a silky shine. Thanks to its narrow, spring-loaded plates, it can be used variably and can quickly conjure up striking accents in top hair, volume in the lower hair and crimped waves in the tips. With its integrated LED display, the MaxStyle is very easy to handle. It features an extremely short warm-up time of just 30 seconds and its temperature can be variably set from 150°C to 230°C.